Yes I have a Haul, and I am soooo excited to share it with you! All of these items are from an Etsy store called
Epically Epic Soap
.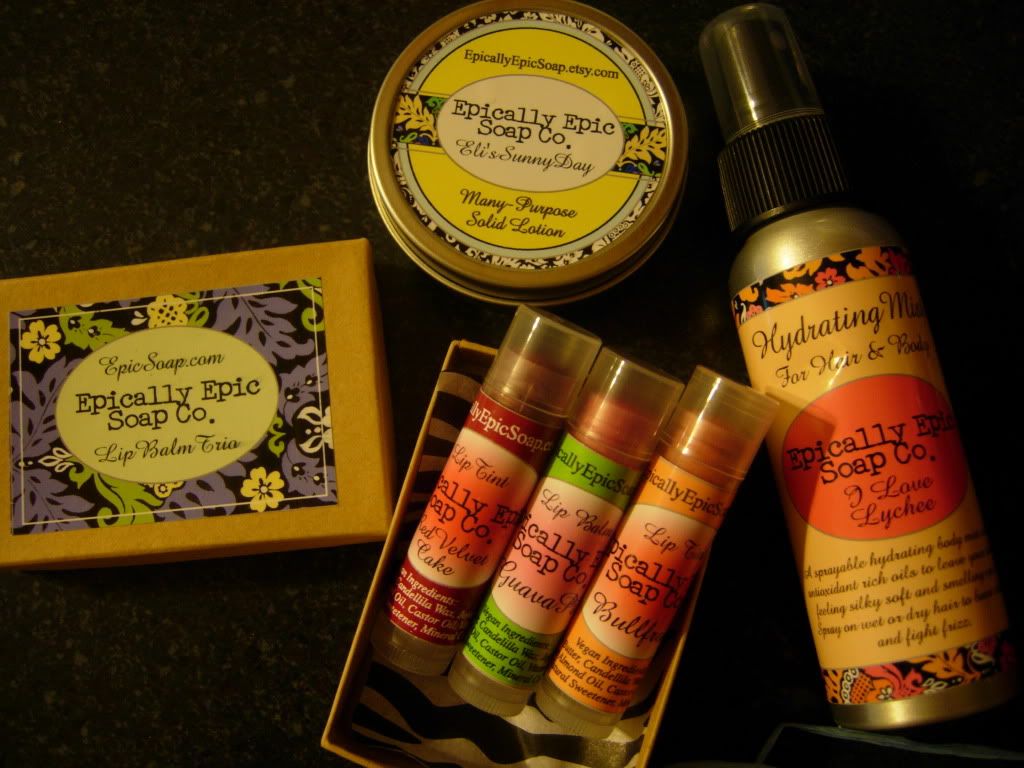 I have been on the search for an affordable lip balm that would moisturize and heal my dry chapped lips. I've been trying everything from the drugstore, all of which just seemed to make my lips even more dry. Well, I am happy to say that my search is over! I found the most amazing lip balms and lip tints at Epically Epic Soap. They truly are amazing! One swipe before bed, the next morning my lips were soft and supple. They are made of natural ingredients such as pistachio butter, castor oil, vitamin E, and sweet almond and jojoba seed oils - and come in many different and unique scents/flavors. They are also Vegan "flavors" available.
Trio of Epic Lip Balms
$10.50 USD
Lip Tints: Guava Pie, Red Velvet, Bullfrog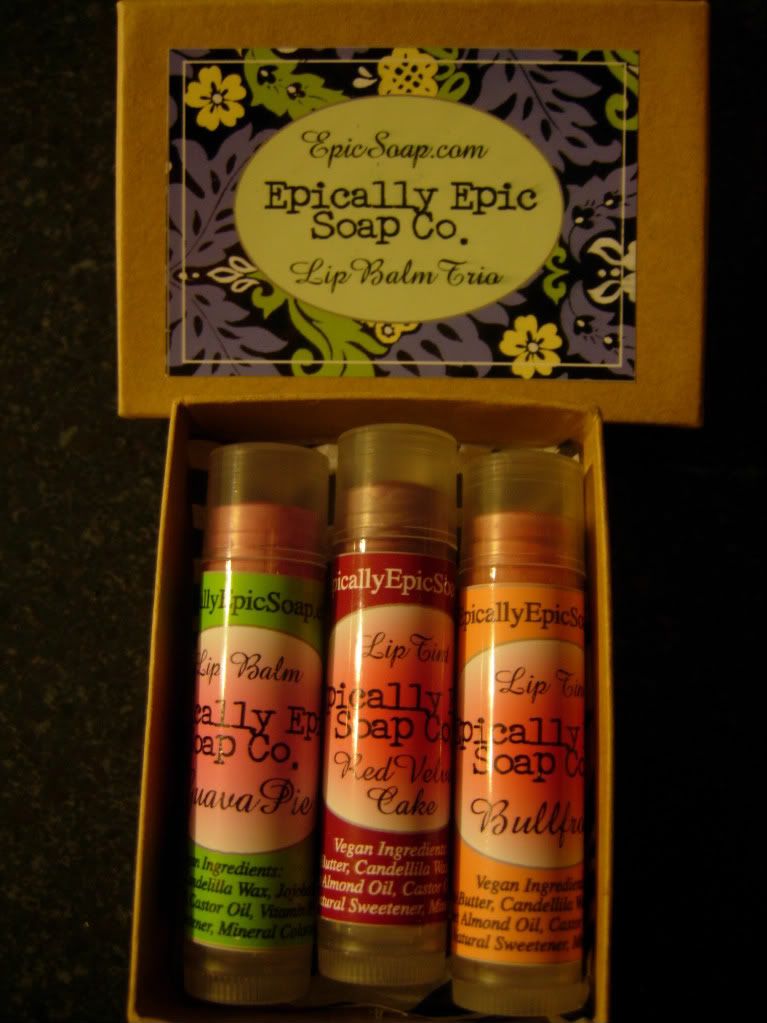 You can order them individually for $3.50 ea., or in sets of 3 for $10.50, or 6 for $20.00. I chose the set of 3 Lip Tints: Red Velvet (Sheer Red Tint), Guava Pie (Sheer Pretty Pink), Bull Frog (Sheer Shimmery Peach). They all smell like their name (Bull Frog is named after a drink and the flavor is described as sweet peaches, maraschino cherry, a drop of lemon, and gin - yum!). I am very impressed with the quality and the color of these tints! They are sheer wearable and very pretty colors! I am totally using these now in replacement of lipsticks. The Red Velvet has the most pigmentation of the three I chose, leaves a nice red just bitten look to the lips, and kind of left a stain like effect which I loved. I cannot wait to try out the other tints and balms! As a matter of fact, shortly after recieving this order I did place another order! I am totally addicted.
Another item I ordered was the Many Purpose Solid Lotion. Like the lip balms, there are a variety of scents to choose from. You can also create your own custom scent, which is exactly what I did! I got a solid lotion in a custom scent called "Eli's Sunny Day". The scents I chose to create this fragrance: Vanilla, Marshmallow and Lemon. I wasn't sure how it would turn out, but I am very happy with the result.....very sweet, bright and yummy...just like my little Eli's smile when we go outside to play because "mommy it's a sunny day". I just love it! Allison did an amazing job not only with the scent, but with the formulation of these solid lotions. Really moisturizing, she calls them "many purpose solid lotion", since they can be used to moisturize the cuticles, as a hand lotion, foot salve, solid perfume, massage lotion etc.... I mainly use this for my hands and cuticles and it does a great job in keeping my hands soft and moisturized.
Online Product Description:
"Now you can get custom-scented solid lotions in practically any fragrance imaginable! These adorable tins make fun gifts, party favors, or affordable treats for yourself. Choose from any of these scents, or combine as many as you want. Give your fragrance a name, and I'll even make a custom label for you.
Epically Epic solid lotions are the perfect consistency -- a little bit softer than a balm and a little more solid than a body butter. They are made with natural plant oils and Vitamin E, which are easily absorbed and nourishing to your skin. No plastic bottles, and no preservatives! Choose from any of these scents, or combine as many as you want ~"
Many Purpose Solid Lotion
Custom Scent: Eli's Sunny Day
$7.00 USD
The last item I ordered is the Hydrating Hair and Body Mist in the scent "I Love Lychee".
This is another amazing product. Smells just like the Lychee fruit! I mainly use this as a body moisturizer. After I shower, I spritz this all over and rub it in like a lotion...the result, soft yummy skin :) I am impressed that this contains Argan Oil! This is really nice as it does not leave you feeling greasy but actually absorbs into the skin. I plan on getting this in a custom scent :) I don't use this on my hair since my hair is very fine..but I'm sure that this would do great for those with thicker hair.
Online Product Description:
"A sprayable hydrating body mist with a blend of antioxidant rich oils and vitamin E that leaves your skin feeling silky soft and smelling epic. Spray on wet or dry hair to boost shine and fight frizz. It's perfect to use as a light perfume or for layering with my other scented products."
I Love Lychee Hydrating Hair and Body Mist
$9.50 USD

Overall I am VERY happy with all of the items I purchased from Epically Epic Soap. I am also very happy with the seller...the transaction went smoothly, items arrived quicker than I expected, packaged very nice, and Allison is so friendly! I love the fact that these items are made with natural ingredients, and that they are "home made" with the utmost quality by Allison. I am a customer for life! All of these items are now staples that I will repurchase over and over again!
You can find these items and more on Allison's Epically Epic Soap Store!
Shop Here!